New Fundraiser Announced – Women's Leadership Conference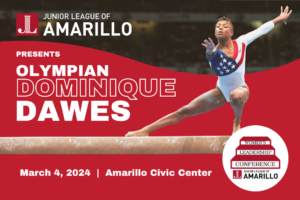 Save the date for March 4th, 2024! The Junior League of Amarillo will be hosting a new fundraiser, Women's Leadership Conference.
This event will include guest speaker Dominique Dawes, a three-time Olympian, Olympic Gold Medalist, brand ambassador, and sought-after motivational speaker.
To honor outstanding women in the community, from November 1, 2023 to January 15, 2024, the public can nominate women for the Glass Breakers Awards and high school seniors for the Breaking Barriers Awards.
Glass Breakers Award nominations for industry professionals can be submitted using the Glass Breakers Nomination Form. An outstanding High School Senior Student will also be recognized and nominations can be submitted using the High School Senior Breaking Barriers Nomination Form.
For more information about the event and sponsorship opportunities, please visit https://www.jlamarillo.org/womens-leadership-conference/