The Covid-19 situation has forced us to temporarily postpone our events and fundraisers. But we at Junior League of Amarillo would like you to know our Mission does not waiver.
We are proud to say, our empowered female leaders are some of the healthcare workers battling the Coronavirus front line, teaching our local students, Moms thrust into homeschooling children, raising funds for the homeless right here in Amarillo, and using their skills to make and teach others in our League to assemble masks.
And while we may not be able to gather together in person, that doesn't stop our plans to provide help for our community.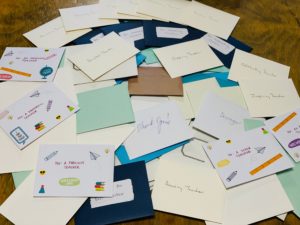 Junior League of Amarillo presented teachers and staff at San Jacinto Elementary School with 75 hand-written notes with gift cards from Water Still.
We are committed to taking care of Amarillo!