Prospective Member Informational Meet and Greet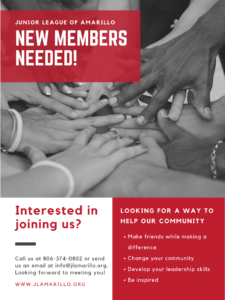 Our last prospective member meet and greet for the Spring!
Come and see what the Junior League of Amarillo is about and how you can join.
Prospective members and Sponsors are encouraged to come and fill out any last paperwork.  Prospective members do not need to have a sponsor to come.
We will be meeting at 7601 Golden Pond Place – Shop #7 – 5pm – 7pm. The shop is located behind Bright Minds Academy.