---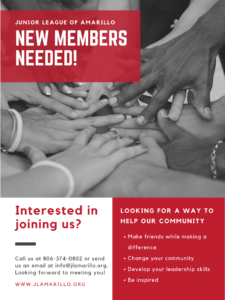 ---
Why Join?
Are you looking for a way to meet new friends, give back to the community, and grow as a leader? The Junior League of Amarillo (JLA) might be a great fit for you!
JLA STATISTICS –
Currently, the Junior League of Amarillo is a network of 107 Active members and 498 Sustaining members.  By joining the JLA, you will become a Provisional Member, where you will gain valuable training in leadership and community voluntarism.  You will join a group of women seeking to make an impact on their community.
Eligibility to Join JLA:
JLA welcomes New Members once a year.  JLA runs our organization similar to a school calendar year (June-July).  We accept applications for membership until June 20th for the following calendar year.  We hold several social events and informational during the year.
Please contact our Recruitment Chairs, Karlee Gideon and Dorelen Rasor JLA.Member.2023@gmail.com
There are a few requirements you must meet to become a member:
21 Years of Age per JLA Bylaws, Article IV, Section 2
Reside within the Amarillo Metropolitan area or surrounding counties
Interest in voluntarism
Commitment to community service
Interest in developing her potential for voluntary community participation
Sponsorship:
Per the current JLA Bylaws, each Provisional member is required to have at least one Active or Sustaining member sponsor her membership.  Prospective Provisionals can either obtain a member's sponsorship herself, or the Junior League will introduce you to one of our amazing women who can't wait to get to know you!
Please let the Membership Development Chair know you need to obtain sponsorship when you turn in your membership application.
Recruitment Events:
How to Apply:
The Junior League of Amarillo Membership Application is here.  Please take this to an informational meeting, drop it by Shelton-Houghton House during regular business hours, or mail it to:
Junior League of Amarillo
c/o Membership Development Chair
1700 S. Polk
Amarillo, Texas 79102
Or email it to: JLA.Member.2023@gmail.com